The first Wisconsin State Capitol building was in Belmont, WI in 1836 and legislature convened there for 42 days until Madison was chosen as the site for the Capitol building. The first Capitol building in Madison opened on the current site in 1837.
In 1904 a fire destroyed the previous State Capitol building providing the opportunity to create a bigger and better Capitol building. Construction of the current building was completed in 1917 and used 43 types of stone from six countries and eight states. The dome is the largest by volume in the nation.
The Building is open to the public and free tours are available. Must sees include the 4th floor museum, observation deck, and don't forget to hunt for fossils in the stone!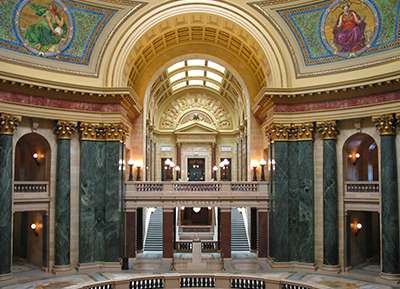 Photo Credit: capitol100th.wisconsin.gov
Outdoor sculptures and memorials include:
The Wisconsin statue on the top of the dome. The statue has a badger perched on her helmet as an homage to the miners that helped create the financial backbone of our state.

Forward statue at the State Street Walkway. Forward is named for our state motto.

Statue of the leader of the 15th Wisconsin Volunteer Division during the Civil War Hans Christian Heg on the King Street Walkway.

The Wisconsin Police Memorial on the N. Hamilton Street Walkway.
Take a virtual tour of the Capitol
Credit: Wisconsin Historical Society
Downtown Madison Self-Guided Tour Stops
Monona Terrace Community and Convention Center
First Settlement District
The Majestic Theater
Wisconsin State Capitol
The Bartell Theater
Madison Children's Museum
Wisconsin Veterans Museum
Wisconsin Historical Museum
Madison Public Library - Central Branch
Overture Center for the Arts
Orpheum Theater
Madison Museum of Contemporary Art
Elizabeth Link Peace Park
Frances Street Plaza
Memorial Union
Library Mall and the Confluence
Bascom Hill
Chazen Museum of Art