The original building which now houses the Bartell Theatre Foundation was a brick shell with three wooden floors, was built in 1906 by Frederick W. Kehl and was called the Colonial Hall, home of the Kehl Dance Academy. Shortly after opening, bowling alleys were installed in the first floor. The second floor held the Colonial Hall, a large meeting room in which dance recitals were held frequently as well as meeting of various community groups.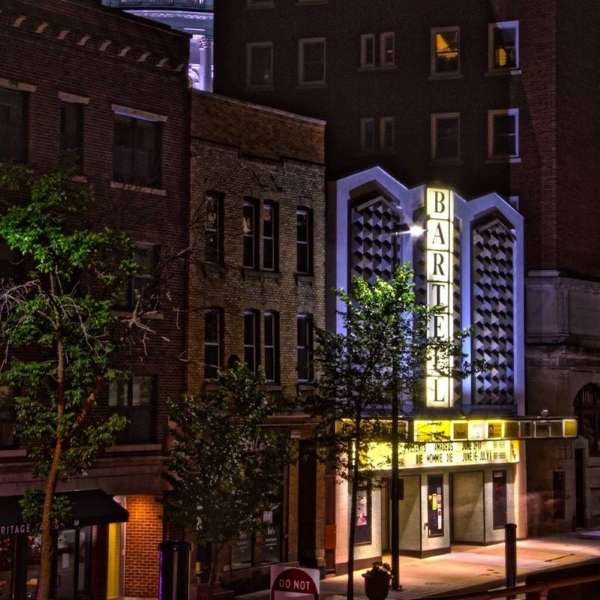 Photo Credit: The Bartell Theater Facebook Page.
Since this historic building has housed a shoe repair shop, several restaurants, a VFW post, barber shop, bars, and a movie theater.
After all of these changes, in 1994 the Bartell Theater found it's current home. The Foundation currently supports six different local groups including Madison Ballet , Madison Theatre Guild , Mercury Players Theatre , StageQ , Strollers Theatre , and Kathie Rasmussen Women's Theatre (Krass) .
Credit: The Bartell Theater .
Downtown Madison Self-Guided Tour Stops
Monona Terrace Community and Convention Center
First Settlement District
The Majestic Theater
Wisconsin State Capitol
The Bartell Theater
Madison Children's Museum
Wisconsin Veterans Museum
Wisconsin Historical Museum
Madison Public Library - Central Branch
Overture Center for the Arts
Orpheum Theater
Madison Museum of Contemporary Art
Elizabeth Link Peace Park
Frances Street Plaza
Memorial Union
Library Mall and the Confluence
Bascom Hill
Chazen Museum of Art