The Madison Public Library originated as the Madison Free Library with the help of a city ordinance and a donation of more than 3,000 books from the Madison Institute. The original library was housed within City Hall until 1906 until the Carnegie Library was established, which is now part of the University of Wisconsin.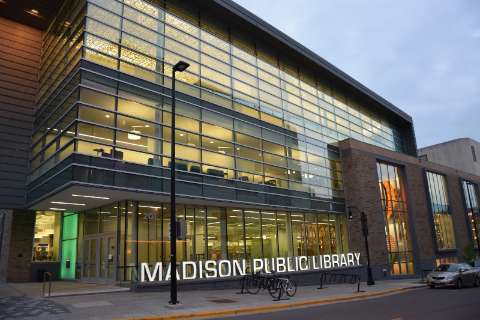 Photo Credit: Madison Public Library
The current location for the Central Library was first used in 1965. A remodeling project began in 2012 which relocated the branch for a year to S. Hamilton St., and the current building opened on September 21, 2013.
The branch has several floors of books, an area just for kids, a music recording studio, social resources, a green roof, meeting and event space, and several other amenities.
Madison Public Library accepted the 2016 National Medal for Museum and Library Service in Washington, D.C. on June 1, 2016. First Lady Michelle Obama presented the award at a ceremony at the White House.
Credit: Madison Public Library – Central Branch
Downtown Madison Self-Guided Tour Stops
Monona Terrace Community and Convention Center
First Settlement District
The Majestic Theater
Wisconsin State Capitol
The Bartell Theater
Madison Children's Museum
Wisconsin Veterans Museum
Wisconsin Historical Museum
Madison Public Library - Central Branch
Overture Center for the Arts
Orpheum Theater
Madison Museum of Contemporary Art
Elizabeth Link Peace Park
Frances Street Plaza
Memorial Union
Library Mall and the Confluence
Bascom Hill
Chazen Museum of Art