Library Mall and the Confluence
This area is where the City of Madison and the University of Wisconsin unite. The confluence is the area where State Street continues from Lake St. to Park St. This area considered part of the City of Madison and is the 700 and 800 blocks of State St.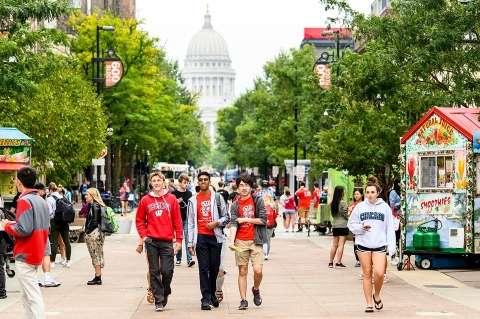 Photo Credit: University of Wisconsin - Madison
The fountain has been officially called the Hagenah Fountain since its installation in 1958. William Hagenah 1903, was a corporate executive, donor, and board chair for the UW Foundation. He was one of the alumni leaders who first dreamed of creating a central campus green on Library Mall (a vision that many have shared, but one that has been realized only sporadically; Alumni Park, which opened in 2017, is part of that same dream). Hagenah donated the funds that built the fountain, and he chose the words inscribed on it: "Teachers and books are the springs from which flow the waters of knowledge." But the water feature's popular name has pretty much always been "Library Mall Fountain." Though Hagenah made this campus landmark possible, very few people remember his connection to it.
Credit: Wisconsin Alumni Asociation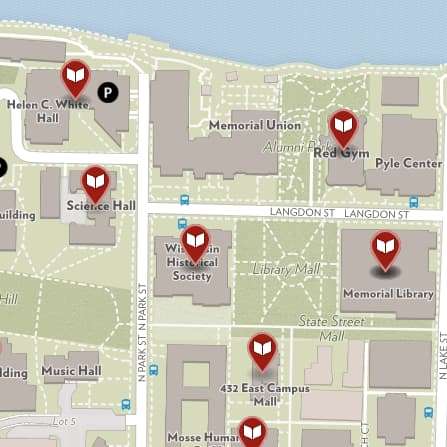 Map Credit: University of Wisconsin - Madison
Memorial Library was completed in 1953 and thanks to a few renovations is now home to more than 350,000 square feet of library space.
The Wisconsin Historical Society was previously housed in the Wisconsin State Capitol, but increasing demand created the need for a larger space. Completed in 1900, the location on campus was selected to better serve the students who were the primary users of the space.
Also found on Library Mall is the Mosse Humanities Building dating from the 1960's. Just around the corner on East Campus Mall you will find Vilas Hall, home to the University Theater, as well as the Hemsley Theater, the new home of the University of Wisconsin School of Music.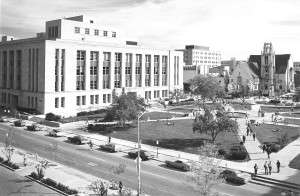 Photo Credit: University of Wisconsin - Madison
Credit: Wisconsin Historical Society
Downtown Madison Self-Guided Tour Stops
Monona Terrace Community and Convention Center
First Settlement District
The Majestic Theater
Wisconsin State Capitol
The Bartell Theater
Madison Children's Museum
Wisconsin Veterans Museum
Wisconsin Historical Museum
Madison Public Library - Central Branch
Overture Center for the Arts
Orpheum Theater
Madison Museum of Contemporary Art
Elizabeth Link Peace Park
Frances Street Plaza
Memorial Union
Library Mall and the Confluence
Bascom Hill
Chazen Museum of Art