Frances Street Plaza
Also known as "Concrete Park" the northern part of this plaza separates The Towers and The Statesider residences, and concludes with the beautiful Graduate Madison hotel. With the terraced step design, flower pots, and a rich arbor canopy this space is a pleasant place to visit. At the top of the hill you'll find Langdon St., home to many of the UW Fraternities and Sororities.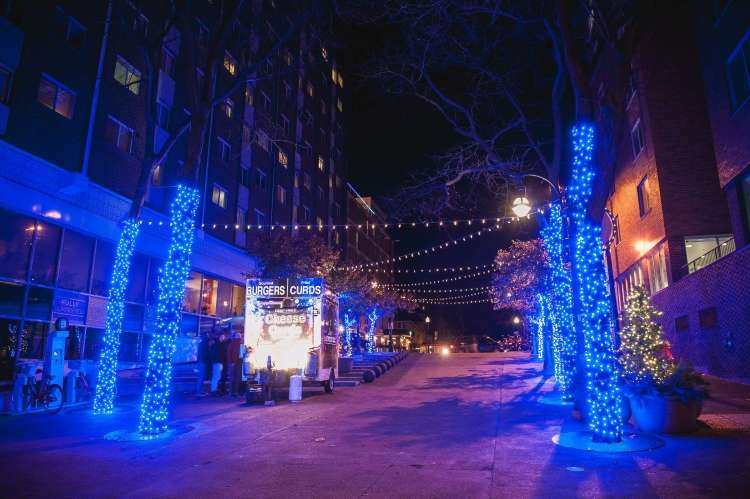 Photo Credit: Madison's Central BID
The southern portion leads directly to the UW Madison campus, in particular is a main path for UW Badgers fans to find their way from State Street to the Kohl Center. Renovated as part of the State Street reconstruction project, this plaza hosts the Four Lakes fountain and a pleasant view.
You'll surely notice State Street Brats which is UW Student and Alumni HQ, and across the way is The HUB, one of the most recent developments on State St. which includes apartments and several great businesses.
Credit: Madison's Central BID
Downtown Madison Self-Guided Tour Stops
Monona Terrace Community and Convention Center
First Settlement District
The Majestic Theater
Wisconsin State Capitol
The Bartell Theater
Madison Children's Museum
Wisconsin Veterans Museum
Wisconsin Historical Museum
Madison Public Library - Central Branch
Overture Center for the Arts
Orpheum Theater
Madison Museum of Contemporary Art
Elizabeth Link Peace Park
Frances Street Plaza
Memorial Union
Library Mall and the Confluence
Bascom Hill
Chazen Museum of Art