Bascom Hill
An example of a glacial drumlin, Bascom Hill is home to several UW Campus buildings, but is notably the location where the UW Campus first made it's home. North Hall, the first UW Campus building, was completed in 1851, three years after the University was established upon Wisconsin gaining statehood.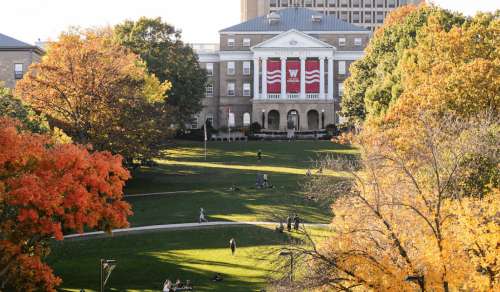 Photo Credit: University of Wisconsin - Madison
The most notable building on Bascom Hill is Bascom Hall, situated at the top of the hill. Bascom Hall does not sit as it always has, it used to have a dome that was destroyed in a fire and never replaced. The plaza in front of the building is is home to the Abe Lincoln statue, a recreation of similar statues found across the country. It is tradition that graduating students have their picture taken sitting on Honest Abe's lap.
It is also tradition that every spring lawn flamingos are placed on the hill as a fundraiser in honor of a prank in which the infamous Pail & Shovel party placed more than 1,000 pink flamingos on Bascom Hill on the first day of class in 1979.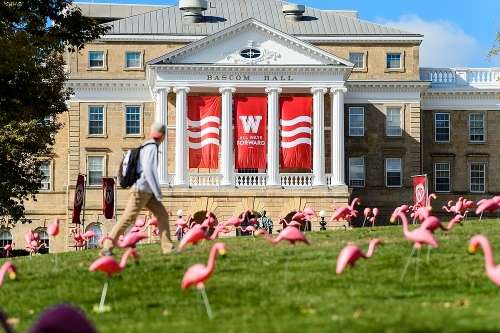 Photo Credit: University of Wisconsin - Madison
Credit: University of Wisconsin - Madison
Downtown Madison Self-Guided Tour Stops
Monona Terrace Community and Convention Center
First Settlement District
The Majestic Theater
Wisconsin State Capitol
The Bartell Theater
Madison Children's Museum
Wisconsin Veterans Museum
Wisconsin Historical Museum
Madison Public Library - Central Branch
Overture Center for the Arts
Orpheum Theater
Madison Museum of Contemporary Art
Elizabeth Link Peace Park
Frances Street Plaza
Memorial Union
Library Mall and the Confluence
Bascom Hill
Chazen Museum of Art