The Wisconsin Historical Museum is located at 30 N. Carroll Street on Madison's Capitol Square. The current home of the Museum was built in 1953 and originally housed the Wolff, Kubly & Hirsig hardware store. The Historical Society renovated the building and the Museum moved in during April, 1986.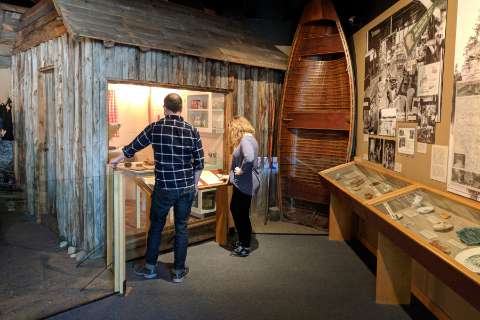 Photo Credit: Wisconsin Historical Museum
Inside you will learn the stories of Native peoples who have lived in Wisconsin for over 12,000 years, discover themes unique to Wisconsin from settlement days to the present, and examine Wisconsin's political heritage and the ways in which Wisconsinites dealt with issues related to immigration, industrialization, and urbanization. And don't miss an unparalleled view of the state capitol building.
Wisconsin Historical Museum Shop

Video credit: Wisconsin Historical Society
Credit: Wisconsin Historical Museum
Downtown Madison Self-Guided Tour Stops
Monona Terrace Community and Convention Center
First Settlement District
The Majestic Theater
Wisconsin State Capitol
The Bartell Theater
Madison Children's Museum
Wisconsin Veterans Museum
Wisconsin Historical Museum
Madison Public Library - Central Branch
Overture Center for the Arts
Orpheum Theater
Madison Museum of Contemporary Art
Elizabeth Link Peace Park
Frances Street Plaza
Memorial Union
Library Mall and the Confluence
Bascom Hill
Chazen Museum of Art