The Madison Museum of Contemporary Art is an independent organization that exhibits, collects, and preserves modern and contemporary art to provide transformative experiences that educate, reflect, and inspire us as individuals and a community.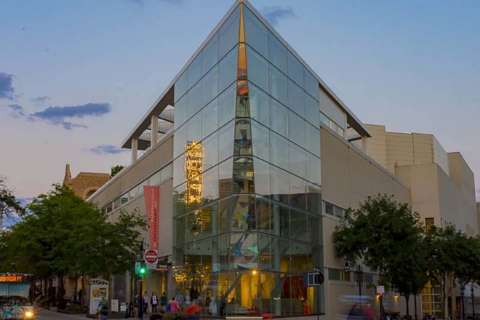 Photo Credit: Madison Museum of Contemporary Art
Following 105 years of presenting exhibitions and education programs in borrowed and refurbished spaces, the Madison Museum of Contemporary Art opened to the public on April 23, 2006, in a brand new facility connected to Overture Center for the Arts.
Designed by world-renowned architect Cesar Pelli, the museum's exhilarating facility offers 51,500 square feet of interior space, as well as a 7,100-square-foot rooftop sculpture garden. Public amenities include spacious galleries, a 230-seat lecture hall, a children's classroom, a new-media gallery, and a study center for drawings, prints, and photographs. The facility was made possible by the extraordinary generosity of W. Jerome Frautschi, a long-time friend of the museum.
Free and open to the public, MMoCA is host to several cultural events including Gallery Nights, movie showings, receptions, craft sales, and organizes the annual Art Fair on the Square.
Credit: Madison Museum of Contemporary Art
Downtown Madison Self-Guided Tour Stops
Monona Terrace Community and Convention Center
First Settlement District
The Majestic Theater
Wisconsin State Capitol
The Bartell Theater
Madison Children's Museum
Wisconsin Veterans Museum
Wisconsin Historical Museum
Madison Public Library - Central Branch
Overture Center for the Arts
Orpheum Theater
Madison Museum of Contemporary Art
Elizabeth Link Peace Park
Frances Street Plaza
Memorial Union
Library Mall and the Confluence
Bascom Hill
Chazen Museum of Art