Shine On Madison
Madison's Central Business Improvement District's (BID) new, unified Downtown Holiday Celebration called "Shine On Madison" continues in 2019. Shine On Madison is six-week community event, started in 2017 to increase visibility and traffic to businesses downtown, includes a seasonal lighting ceremony, a winter market, a special focus on downtown retailers, enjoyment of the arts and a strong sense of community. This year the event is November 16 – January 6, 2020.
MORE SEASONAL LIGHTS!
With 10 NEW community light displays, 13 specially decorated areas, fantastic restaurants and the region's best shopping options, Downtown Madison is the perfect place to celebrate the season with friends and family.
In 2017, as part of their 75th anniversary, the Madison Community Foundation helped the BID add new lighted activity areas to the downtown. These new lights, along with over 100 snowflake pole lights and seasonal planters will create a fun festive feel to downtown Madison.
COMMUNITY PLANTERS
This year the BID has partnered to present a tour of 10 Community Planters. These planters have been "adopted" by local non-profit organizations and are scattered throughout the downtown. These organizations will add special decorations and share information about the work they do. The new displays will be turned on at 6:08pm on November 16 and stay up through January 6.
Community Planter partners include:
• Badgerland Girl Scouts
• Downtown Madison
• Fibre Forward Madison
• Goodman Community Center
• Grace Food Pantry
• Ma, Paws, and Me Pet Rescue
• MACC Found- Strategic Brand Marketing
• Madison College Hospitality Program - Madison Concourse Hotel
• Madison Reading Project
• Madison Senior Center Foundation
• Operation Fresh Start
• Sierra Club - Four lakes chapter
• The Beacon - Catholic Charities
Many area property and business owners are participating too! ALL displays will be turned on at 6:08pm on November 16 and stay up through January 6, 2020. A digital map marking the locations will be available November 15.
SEASONAL LIGHTING CELEBRATION AT 6:08pm (November 16)
Join city VIPs, Santa & Mrs. Claus, and more for a special ceremony beginning at 6pm on November 16 where the Capitol Square meets State Street. At 6:08pm (a nod to our 608 area code) we will turn on all the lights! We have many special surprises in store for this very special event! In addition to a special Madison Night Market; more than 40 downtown businesses will be open late with shopping specials.
A WINDOW DISPLAY COMPETITION (November 16 – December 18)
Downtown businesses are competing for bragging rights! Art Gecko has been the winner in 2017 and 2018. Will they take the trophy for the 3rd year? The Window Display Competition will run from Saturday, November 16 through Monday, December 16.
Guests can pick up and drop off a ballot at the Downtown Visitors Center (452 State Street) near Lisa Link Peace Park.
WINTER MADISON NIGHT MARKET (November 16)
The Madison Night Market – Winter Market will include 40 vendors showcasing handmade products, local art, artisan gifts, prepackaged foods, games and special visiting food carts. This winter event will be held on the 100 block of State Street November 16 from 4pm – 8pm. Attendees will also want to make sure to visit the MMOCA Art & Gift Fair open that day! Retailers and restaurants in the area will feature warm drinks and delicious food. Here is a link to the map.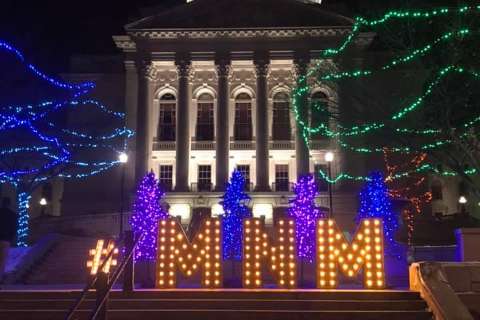 2019 Sponsors
Madison Gas & Electric
Park Hotel
The Wisconsin Union
Traditions Lighting
2019 Special Events
Winter Madison Night Market
Seasonal Lighting Celebration
Fall Wine Walk
Holiday Open House
Holiday Trolley & Caroling
Cookie Walk
2019 Calendar
2019 Map