Downtown Madison Store
Share your love of Downtown Madison and our unique special events with a purchase of some "logo wear". Or order a Downtown Madison Gift Certificate.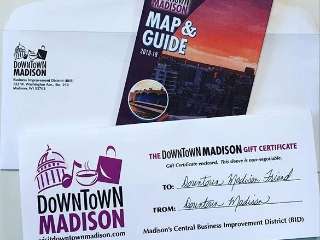 Gift Certificate
Issued as paper certificates in increments of $5. Accepted at nearly 175 shops, restaurants, and entertainment spots.
Please note due to the current government order there is limited staffing at our office. Orders may be delayed and can take up to one week to process.
Pick-up is unavailable until further notice.
Please also consider supporting the Downtown Madison Holiday Gift Card Group Sale Here
Buy