Downtown Madison Store
Share your love of Downtown Madison and our unique special events with a purchase of some "logo wear". Or order a Downtown Madison Gift Certificate.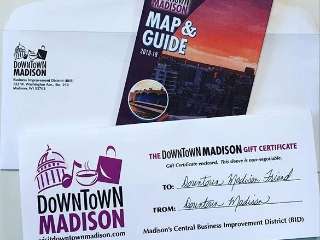 Gift Certificate
Issued as paper certificates in increments of $5. Accepted at nearly 175 shops, restaurants, and entertainment spots.
Shipping Notice:
Orders typically process within 1-3 business days. Orders will be shipped via USPS First Class mail.
Pick-up is unavailable until further notice. Certificates can still be purchased in person at the University Book Store at 711 State St.
Buy