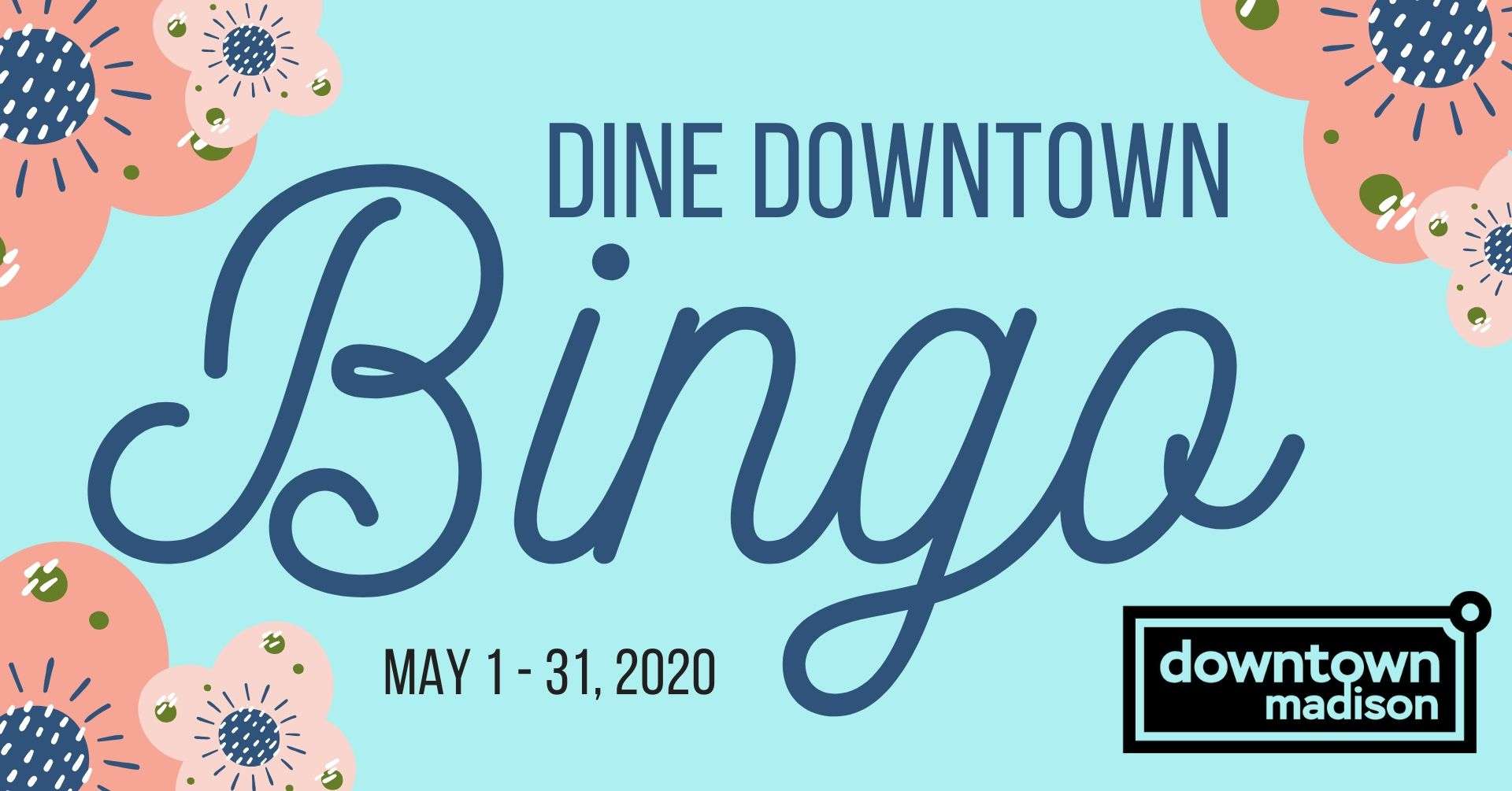 Dine Downtown Bingo
Dine Downtown BINGO is a special program to encourage the community to actively support restaurants and specialty food businesses in downtown Madison.
This promotion will run for the month of May and will be a restaurant "bingo-style" game with prizes available to participants. There will be 4 sets of 3 cards issued, one set each Friday for the month of May. Each set of cards will feature 20-30 open businesses.
This project is a fun, safe, and easy way for the community to support and enjoy downtown Madison restaurants.
Dates
May 1, 2020 to May 31, 2020.
Rules
• There are two ways to submit entries - Using our Google form or by sharing an album on Facebook within the Dine Downtown BINGO event.
• Participants submit photos or screenshots of items purchased from the restaurants, with the restaurant logo, name or other identifying mark included.
• Examples include photos of the food, a screenshot of your Toast/Door Dash/Grubhub/EatStreet order (blocking out all personal information), a photo of you picking up the food, etc. - - »> Be creative, just make sure we know where you went.
• There will be a total of 12 BINGO cards posted to the webpage.
• 3 BINGO cards will be posted each Friday, beginning Friday, May 1.
• BINGO cards are numbered 1 – 12.
• Participants may use any bingo card they like and will need to include the number of the card they use to verify completion.
• BINGO cards will be available on the Downtown Madison website and in the Facebook event.
• Traditional BINGO wins including down, across, diagonal and four corners.
• A minimum purchase of $5 is required to be counted.
• For social posts, participants must make them public. If we cannot see the post, it will not count.
• The first person to submit a 'blackout' card will win the grand prize.
• All cards must be submitted by June 1, 2020 at midnight to be entered into Prize Drawings.
• Limit to one per person.
Prizes
The first 100 completed and verified BINGO cards will earn (1) - $20 Downtown Madison Gift Certificates.
The first person to complete a verified BLACKOUT card will win (1) - $200 Downtown Madison Gift Certificate.
Special Notes
To be eligible to win, participants must submit their photos and cards by the end of the day on June 1, 2020. Maximum number of winners is 100.
The first person to submit a black out will win the grand prize. This may happen at any time during the promotion.
In fairness to businesses, to be included, they must be within the BID and they must provide their information to the Downtown Madison 2020 Updates page or Business Improvement District staff.
In addition to the BINGO cards, special giveaways will take place in the Facebook event for the following options
• Share a favorite memory or a story of a great meal out in Downtown Madison.
• Buy a gift card to a restaurant in Downtown Madison.
• Buy a t-shirt, or other item of merchandise from your favorite restaurant/eatery in Downtown Madison.
• Free Space.
• Donate to a campaign to donate food to frontline workers or food banks.
• Use the virtual tip jar to send some love to your favorite server from your favorite restaurant.
Bingo Cards
Download a PDF of the card you'd like to use.
Week 1 - May 1, 2020
Card 1 | Card 2 | Card 3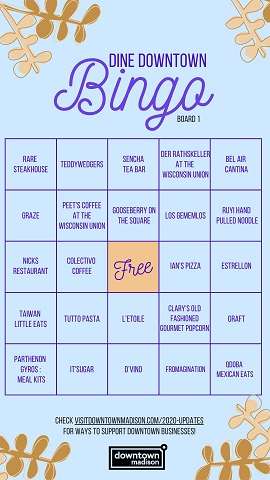 |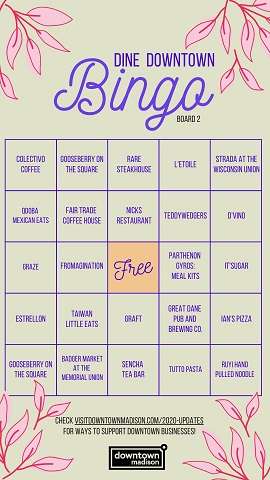 |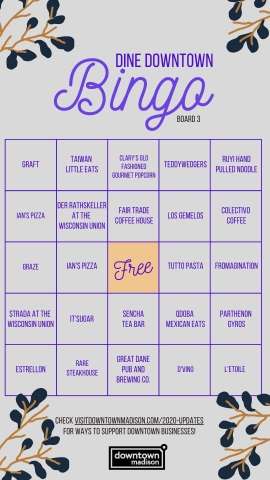 Week 2 - May 8, 2020
Card 4 | Card 5 | Card 6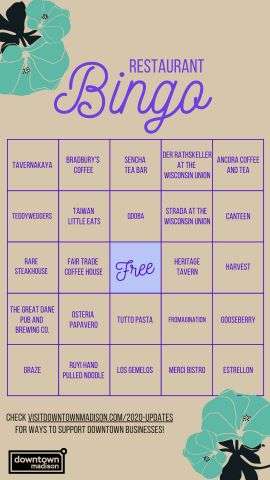 |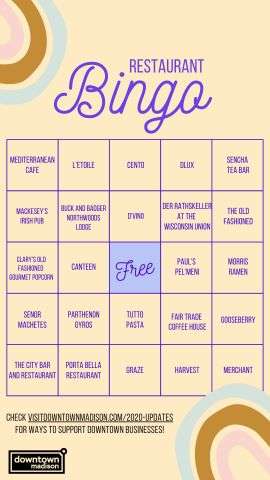 |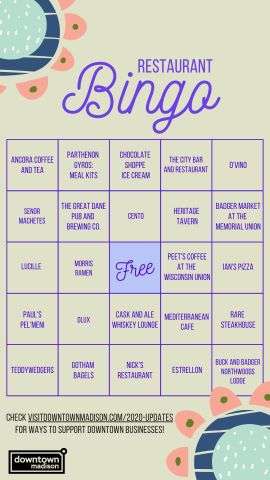 Week 3 - May 15, 2020
Card 7 | Card 8 | Card 9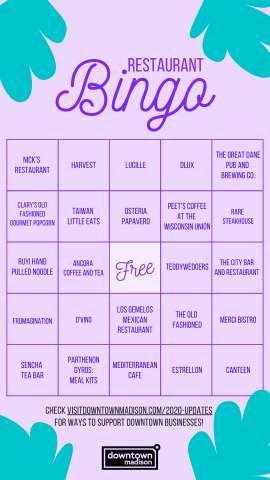 |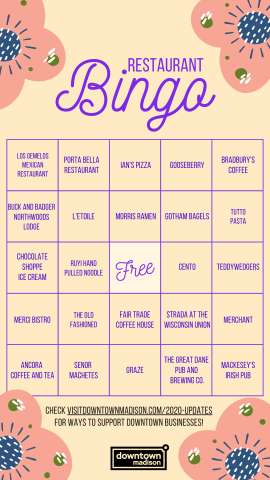 |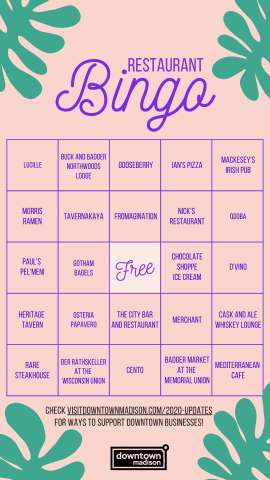 Week 4 - May 22, 2020
Card 10 | Card 11 | Card 12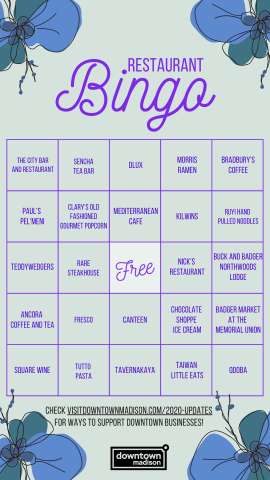 |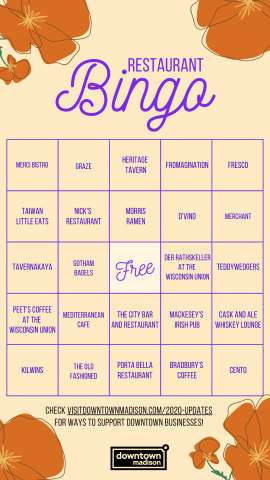 |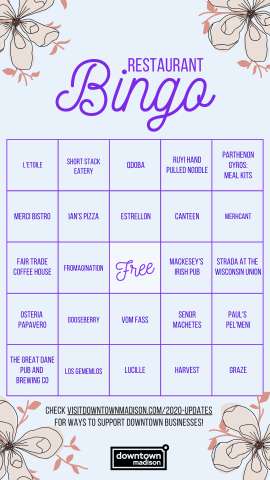 Register Your Special
Have a business in the Central Business Improvement District? Want to share your special updates so you can be a part of this program? Click here to submit your information.
Questions?
Email programs@visitdowntownmadison.com